The country of Botswana in Africa is the biggest producer of diamond in the world by value. The second and third top producers are Russia and Canada, respectively. It is interesting to note that Canada is the third largest producer of diamonds.
The Top Diamond Producing Countries: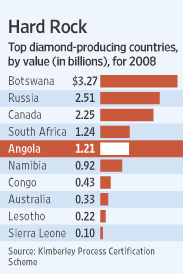 An estimated 65% of the world's diamonds come from African countries according to the Diamond Facts site.
Some of the Top Diamond Mining Companies are:
De Beers
Rio Tinto

Alrosa
Harry Winston Diamond

BHP Billiton

Petra Diamonds

Gem Diamonds

Source: The 'Blood Diamond' Resurfaces,

The Wall Street Journal
----------------------
Diamond Price Guide
If you're on a very tight budget, you may wish to consider purchasing a gemstone (such as sapphire, ruby, tanzanite). Often you can get higher quality and larger stones for the same price you'd pay for a smaller, lower quality diamond.
This guide is a general "diamond price guide," providing loose guidelines as to what type of diamond (size and quality) you can expect find within various price ranges. This price guide is not an official "diamond pricing index," but rather a general chart to retail diamond prices.
Diamonds, a scam in itself?
Diamonds used to be really expensive, but then diamond mines were discovered in South Africa in the late 1800s and prices plummeted. Thanks to the De Beers Group, a loose kind of cartel was formed to bolster prices.
De Beers has been an extremely effective cartel leader. Diamonds would probably sell for only a fraction of their current prices were it not for a combination of restriction of supply and a marketing campaign to increase demand.
The tradition of the diamond engagement ring is a bogus one. It's a tradition that De Beers invented in the 1930s. De Beers spent big money on marketing, and worked with Hollywood to place diamonds in romance movies.
The retail price of diamonds is two to three times the wholesale price, which in turn is quite a bit higher than what you would get paid if you wanted to sell back your diamond - ever tried to sell back diamonds to the shop? In this instance gold jewelry are a lot better. And probably the wholesale price is several times higher than what it would be without a cartel to prop up the prices. (De Beers has successfully convinced people not to sell back their diamonds with its "diamonds are forever" campaign--if people sold back their diamonds instead of keeping them as family heirlooms, this would put downward pressure on prices.)
Who decided that a man should spend two to three months of his salary on an engagement ring? De Beers. If only all the men of the world would unite and agree not to pay so much, we would all be better off.
A combination of new supply from Canada and Russia, as well as the development of lab-created diamonds indistinguishable from the real thing, threatens to cause a huge crash in the price of diamonds. This is yet another warning against spending two months of salary on a diamond; ten years from now that same diamond may sell for only one week of salary.
Now, try to convince your wife or girlfriends of that ; )