Apple Needs New Hits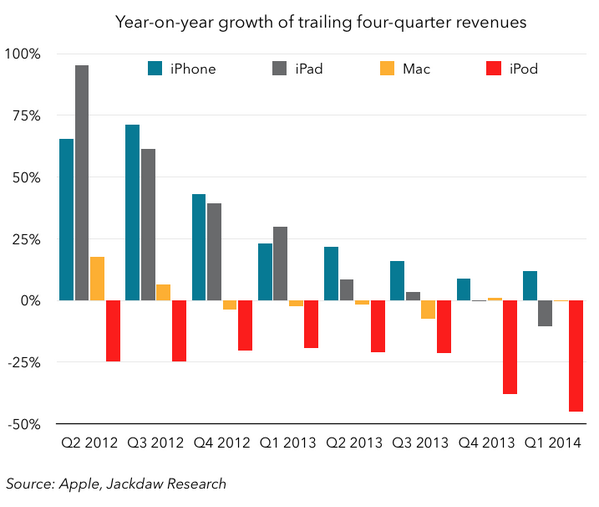 Even as the most attractive company for the past 10 years, investors will only look at growth potential. The chart shows the quarter's year-on-year growth for Apple's top products. As you can see,

iPod

has been on a downtrend for

sometime

already. So what are the runners and gym junkies using to listen to music while they work out? Or has the number of people exercising started to deplete?
The ever popular Mac is a solid performer over a much longer period. Looking forward to the next Mac, always a design

wunderbar

. What is worrying is the declining, almost flat growth year on year for

IPhone

. The trend is worrying as the longer it stays that way, it will allow others to eat into their market share. They had better come out with a new

Ipohone

within the next 3-6 months, and not just cosmetic changes.
The

IPad

saw great acceptance two years

back but

is seeing a similar fate as

IPhone

. If Apple fails to be innovative as they were under Jobs, then they will turn into another Microsoft. Investors will rate it for its

cashflow

, cash hoard and dividends.