Its started out as a media scoop when some of the international media agencies started reporting of an IPO by Shaolin Temple.
HONG KONG, Dec 31 (Reuters) - China's fabled Shaolin Temple, the birthplace of kung fu immortalised in countless martial arts films, may help drive home a Hong Kong IPO soon. The government of Dengfeng -- home to a mainstay of kung fu films for decades -- plans to float shares in local tourism assets ranging from hotels to a cable-car service, many of which thrive on the monastery's fame, the South China Morning Post reported on Monday.
But the monastery itself -- known in the West as the training ground for David Carradine's character Kwai Chang Caine, or "grasshopper", in the 1970s hit television series "Kung Fu" -- doesn't plan a listing in the short term for fear of besmirching its reputation, the newspaper said.
"To become involved in such a highly risky business is against the spirit of Buddha," abbot Shi Yongxin was quoted as saying. And we have adequate money to support what we want to do."
Indeed, Shaolin has embarked on a number of commercial ventures in past years, from kung fu shows to film production and a reality TV search for the next kung fu star. Monks from the temple, in the central province of Henan, have embarked on world tours to perform super-human feats of agility and balance.
Monastery executive director Shi Yanlin told the newspaper admission fees and donations amounted to about 50 million yuan ($6.9 million) this year, versus last year's 32 million yuan. But the temple came under fire in 2006 after a senior Chinese monk was awarded a luxury sports car for services to the local tourism industry, stirring up heated debate on the Internet.

Dengfeng's government has set up a listing vehicle, the Songshan Shaolin Tourism Group, that it wants to debut in Hong Kong, the newspaper quoted tourism official Pei Songxian as saying in Dengfeng without offering details or a timeframe.
Tourism accounts for a third of the city's gross domestic product; some 4.13 million tourists visited the city last year, a rise of 29 per cent, with the temple a main draw. Pei added that Dengfeng's government wanted to open a chain of vegetarian restaurants across China next year.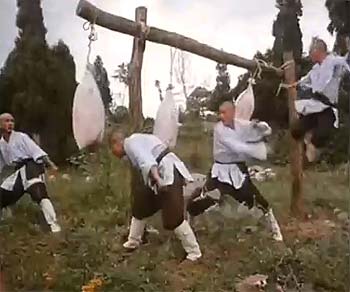 Maybe it was from the barrage of criticisms, now the local government in charge of Shaolin Temple has denied the report that it is pushing to offer shares in an IPO in 2011.
Reuters Jan 07: The city of Dengfeng, in Henan province, had signed a deal with Hong Kong-listed China Travel International to set up Shaolin Culture and Tourism and list it in 2011, the paper said, citing documents that have not been made public.
"The report about Shaolin Temple's IPO and 'selling state assets at a low price' is absolutely untrue," the government of Dengfeng, where the temple is based, said in a statement on Xinhua news agency's website. Dengfeng acknowledged that it was negotiating with China Travel International on a new tourism joint venture in the Songshan mountains, home to the Shaolin Temple, but said no formal agreement had been made.
'Sixteen cultural relics at national and provincial levels, including the Shaolin Temple, in the area will not be managed by the new joint venture,' it said in the statement.
Heywood Ho, the general manager of China Travel International's investment department, confirmed negotiations with Dengfeng but added: "We have not signed any definitive agreement...It is premature to say anything about the deal." The Oriental Morning Post's report said the Dengfeng city government transferred the rights to temple ticket revenues valued at 49 million yuan (RM34 million) in return for 49 per cent ownership in the new company.
Shaolin has developed into a lucrative business enterprise, raising controversy among some who disapprove of the commercialism of the temple's business-savvy abbot, Shi Yongxin. Since taking over as abbot in the 1990s, he has moved aggressively to promote and protect the Shaolin brand, threatening to sue companies that use the temple's name or image without permission and serving as executive producer for martial arts films centred on the temple. Its Hong Kong branch has urged the local government to allow construction of a Shaolin theme park in the former British colony.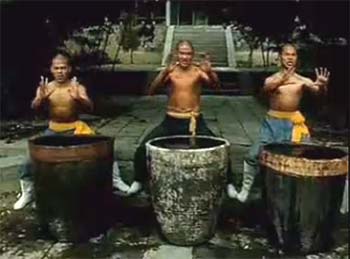 I think there were commercialisation intentions by all involved but they had to backtrack when faced with the barrage of criticisms. What is commercialisation? Shaolin is first and foremost a temple, and then a place where martial arts are honed to the highest quality. The martial arts is more for a sense of personal discipline and maturity, and to have control over your physical and mental abilities. I am not a Buddhist but certainly doing a commercial venture would probably force the temple to "accommodate a lot of fresh demands" in pursuit of margins and EPS growth.
Imagine a slew of new extravagant shows: Cirque du Shaolin in Las Vegas running for 3 years, followed by a new Cirque du Shaolin & Chinese Fairytales in London, followed by Elton John being roped in to do Shaolin's Circle of Life, The Musical ... which will be so successful that a second musical will be written as well ... The Missing 18 Bronzemen, A Dance Extravaganza. A new theme park based on Shaolin Temple will be built in HK, followed by in Sentosa.

A new line of street-cred clothing line named "Shaott" will be unveiled with guest designer Sean Coombs. A new line of fragrance will come out ... brand name: SWEAT - the natural energy of Shaolin, musty, woody... But the best seller has to be Shaolin Sweat - the energy drink!!! The next best seller has to be the book in its umpteenth edition: Shaolin For Dummies!!! .. which will be quickly followed by a motivational book.. Tuesdays With Shaolin.

A bank will be set up across all Asia, naturally called Shaolin Bank, but all interest on deposits will be paid as dumplings. Naturally, the Shaolin Eye ferris wheel will be the new major attraction just outside of the temple. Lastly, a super duper hit reality show will hit the airwaves, Growing Up With 12 Shaolin Teenagers ... which will be followed in a TV joint venture Shaolin-Knockdown-WWF ... need I say more?