Got introduced to Zee Avi, a Malaysian by the way ... I thought Joanna Wang was good, Norah Jones was flaming in the beginning but petered out just as quickly (maybe there was only 2 good albums in her) ... Well, Zee Avi blows both ladies out of the water. Zee Avi's haunting melodies, heavily textured and brooding vocals make for a stunningly reflective time just being mesmerised by her. Its like hearing her baring her souls, her insecurities, her nuanced yet effortless vocalisation ... in a class of her own.
Her debut album was out on Brushfire Records on May 19 2009... so you probably heard it here first.
Her song, Is This The End, should be #1 if she was born and raised in the US, somehow I think she will get there too. The song is soooo good....
Some may categorise her as a folk singer much in the mould of Sarah McLachlan, but she is much more than that. Even when she is light and whimsical, she can attract you and charm you with her sincerity and nonchalance. A bit of trivia, her song "Monte" was featured in the second season finale of Private Practice.
You can also catch an exclusive performance of 4 songs from the album at
www.youtube.com /zeeavi
Below was her interview with CNN on how she became a sensation via youtube:
LOS ANGELES, California (CNN) -- The famed Roxy Theatre in West Hollywood, California, is filled to capacity on a Wednesday night, and it's only 8:30 p.m. What kind of star could bring out this kind of crowd -- and at such an L.A. early hour?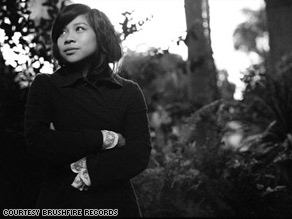 Zee Avi posted her songs on YouTube and attracted the interest of a record label.
Such is the buzz around Zee Avi, a 21st-century chanteuse in the most literal sense. Her spot-on Billie Holiday phrasing and honey-sweet voice would have had her entertaining in a café in the 1930s. In this era, she was discovered on YouTube by an indie rocker -- Patrick Keeler of the Raconteurs -- and is on Jack Johnson's record label, Brushfire, which has partnered with Monotone Records to produce her.
Avi's set of engaging acoustic offerings included an enthralling cover of Interpol's "Slow Hands," and was delivered with self-assurance and poise. In an interview two days earlier, she credited her parents and grandfather for inspiring her love of music -- sometimes through karaoke. "Got to love that," she says.
Avi, 23, also acknowledges the influence of her native Malaysia, which kept her open to new ways of thinking.
"It's a big melting pot of different cultures. We get a good mix of East and West," she says.

Her love of music -- and of the Malay melting pot -- is reflected in her debut album, "Zee Avi" (Brushfire Records). The album, which was released mid-May, fuses early 20th century American standards with modern sounds on songs such as "Kantoi" and "Just You and Me."
CNN spoke to the singer-songwriter just before the album's release. The following is an edited version of the interview.
CNN: You can hear influences on your album from a wide range of artists and eras, from Billie Holiday to Cat Power. How did all of that find its way to you?
Zee Avi: Music is universal. With the media and the Internet you can gain access to everything. By listening to many different types of music it gives me many ways to fuse it with my own [ideas] and then I play whatever comes naturally to me.
CNN: How did you develop a love for music and develop your particular style?
Avi: I think if it's in your blood, it's in your blood. If you love golf, then you would find which wood is good for this and which putter is good for that. It's a passion altogether. Same with music.
CNN: What made you want to put those songs on YouTube?
Avi: One of my friends missed my first gig. I played my first [original] song "Poppy." He's a poet and a writer and I wanted his feedback because I respect his work. So he said to send the song over to him.
I didn't know [how to send it], but I did have this webcam on my dad's laptop and one of those call center headsets. So I ended up putting it on YouTube and he watched and I said, "OK, I'm going to delete it now." He said, "No, let it nest there and see what happens."
I remember I got one comment and I was so happy (laughs). Then I put my second video up and got three comments. It just went on from there.
CNN: And you got a call from Monotone Records.
Avi: One of the guys who worked there messaged me on YouTube. He said, "Hey, we represent White Stripes, M.I.A., the Shins" ... and I went "gasp-gasp-gasp." He said they were interested in talking to me. Next thing I knew we had a rough draft of the recordings.
CNN: What would you be doing right now if there was no Internet?
Avi: What would ["Leave Britney alone!" YouTuber] Chris Crocker be doing right now? (huge laughs)
Before the music thing happened, I wanted to study creative writing and philosophy. When I put these songs on YouTube I certainly never meant it to be a marketing tool. I had no expectations of [what it became].
CNN: Musically, the album is almost wistful, but darkness permeates the lyrics.
Avi: Everybody has that side of their personality that they don't show anybody. Music is my outlet for that.
I also have a positive side -- let's not be a wet blanket. It's not my intention for a song to be [overly] emotive or anything like that. Velvet Underground's "Who Loves the Sun" plays a very important part in how I write songs. That song is very ironic. If you're singing along to that song, you're singing this happy melody but you're actually singing about someone with a broken heart. It's sarcasm too, in a way. It's made such an impact on me, like the fact that you can do that [with songwriting].
CNN: Where does the darkness come from?
Avi: Most of my songs are about relationships, and as anyone knows relationships aren't always sunshine and rainbows. Even when it's good sometimes it's bad. I try to capture the reality of it. It can be a fairy tale, but it doesn't always end up happily ever after. Fine -- prince marries princess and they live happily ever after. But what's "after"?
-------------------
Zee Avi's Background:
Zee Avi (born Izyan Alirahman, also known as KokoKaina). Zee Avi is just 23 but she's an old soul. A huge talent in a petite frame bringing a universal message from the unlikely birthplace of Borneo, an ancient island east of Malaysia which remains an untouched, natural paradise, an apt description of her songs.
How Avi came to record her debut album in L.A., the first joint release from Ian Montone's Monotone Label and Jack Johnson's Brushfire Records, is a true 21st century tale of the way the Internet has transformed the music business and shrunk the globe in the process.
Born in the tiny town of Miri in Sarawak on the island of Borneo, Zee grew up near the South China Sea in a liberal, encouraging household where her father owned an energy consultancy. "I was bred to be a lawyer," she says, but music was in her blood. Her father's father sang and played double-bass, accordion, violin and guitar in bands.
At age 12, Zee moved from Borneo to Kuala Lumpur where she has been based since. At 17, Zee started locking herself in a room for hours on end to learn to play guitar. Guitar took a back seat for 4 years while she was studying fashion design in London. When she returned to Kuala Lumpur, she picked the instrument back up and began writing songs and performing with a band.
Zee began recording her songs on a webcam and posting them on YouTube for a friend to hear. "I remember getting so excited when there was one new comment from some random person I didn't know… One read 'I'm lost for words - I shall favorite it and ponder if that's OK,' " which was written by Kris Rowley, a U.K. singer-songwriter with a YouTube following under the name Zzzzzzzzap. He began posting her videos on his site, which began a viral snowball effect.
The day before her 22nd birthday, Zee posted what she intended to be "my last video," a holiday song, "No Christmas for Me." By the time she checked her e-mail Avi had almost 3,000 messages including a slew of label offers. One email came from Ian Montone, who had been shown the YouTube clip by Raconteurs' drummer, Patrick Keeler, prompting Montone to get in touch and offer to release her music on the Monotone Label.
Before she knew it Zee was on a plane to L.A. to record her debut with producer Robert Carranza at Brushfire's Solar Powered Plastic Plant. "No Christmas for Me" was then featured on the holiday charity album, This Warm December, A Brushfire Holiday, Vol. 1.
With an eclectic pool of influences that range from such eccentrics as Cat Power, Regina Spektor, Leonard Cohen, Tom Waits, Jolie Holland, Daniel Johnston and Chris Garneau, to jazz greats Billie Holiday and Ella Fitzgerald, to classics like Velvet Underground and Led Zeppelin, this self-described "rock lover at heart" captures the dark, bittersweet qualities of romance with a crack left open for hope and optimism.
From the sensuous scat singing on "Honey Bee" to the sultry break-up song, "Is This the End," recalling the existential longing of Peggy Lee's "Is That All There Is," Zee is hopeful of finding love, but equally aware of lurking heartache.
The songs on Zee Avi's debut are about an outsider's desire to belong and the tentative hope of moving on, filled with regret and loss, but boasting an impish, worldly wise sensibility.
"I tend to be a loner," she nods. " 'Honey Bee' is about a romance between two nonconformists who are different from the rest of the hive, and are trying to avoid the pressure to be like everybody else."
"Just You and Me," the first song she wrote on ukulele, has a '20s New Orleans swing jazz vibe.
"I get my melodic feel from the simplicity of classic jazz, people singing what they felt with straightforward lyrics and not too many harmonies," Zee says. "Just a lot of honesty. I'm a girl of simple pleasures.
The elemental acoustic guitar of "Story of…" is enhanced with an Eno-like ambience that add to its shimmering quality, while "Poppy" is autobiographical "with a little bit of poetic license" that looks back at the demise of a two-year relationship.
"My stuff is pretty dark," Zee admits. "Most of my songs are about the reality side of romance, outlets to vent my emotions."
While her live experience amounts to playing gigs in Kuala Lumpur, Zee appeared this January on From the Basement, the U.K. TV webcast/broadcast that has featured Radiohead's Thom Yorke, Damien Rice, the White Stripes and the Shins. From the Basement will also air on the U.S.'s IFC Channel.
From Malaysia to Los Angeles, Zee Avi is enjoying the ride and ready to take on passengers. "I'm still pinching myself" she gushes. "My parents always told me it's important to keep yourself grounded. I'm thankful, but at the same time, I just want to jump through the roof. It's been a pretty amazing journey, getting to work with some really wonderful people, a blessing, really."
Zee Avi's Monotone/Brushfire Records debut returns that blessing…and then some.

Monotone Records is owned by Ian Montone, whose Monotone, Inc. manages the White Stripes, M.I.A., The Shins, Vampire Weekend, the Raconteurs, Against Me!, Cold War Kids, Crookers, among others.
Brushfire Records is owned by Jack Johnson and his manager Emmett Malloy and is home to artists like Rogue Wave, Matt Costa, Neil Halstead, Money Mark, G. Love, Mason Jennings, ALO and Zach Gill.
------------------
My parting shot: actually she has been performing in many places in Malaysia ... but u know Malaysians la... until you get recognised by international quarters, you are still nothing when you are singing English songs in Malaysia. At least Zee's experience would now give a lot more confidence to Malaysian artistes singing in English ... and maybe international record labels will consider Malaysia as the "new Seattle" to discover new talent??!!