Kami no Shizuku - Drops Of God
This has to be one of the best discovery. What started out as a sleeper hit in manga circles was finally adapted into a very good Japanese drama series.
Drops of God (神の雫 Kami no Shizuku?) is a New York Times Best Selling Japanese manga series about wine. It is created and written by Tadashi Agi, a pseudonym employed by

creative team

of sister and brother Yuko and Shin Kibayashi, with artwork by Shu Okimoto. All the wines that appear in the comic are authentic.
The series was first published in November 2004 in Weekly Morning magazine in Japan, and still runs to date. It is also published in Korea, Hong Kong and Taiwan. Since April 2008, volumes have also been published in France by Glénat. As of December 2007 the series had registered sales of more than 500,000 copies.
A live action television adaptation, also titled Kami no Shizuku, was broadcast by Nippon Television in January 2009.

To

wine lovers, this is a gift in so many ways. It

treats wine

as a burden of love. Obviously the creators and writers were huge wine lovers to start with.
The story has it that a top wine critic and writer in Japan died and left his collection worth $20m to his "only" son and a recently adopted godson. However, they will have to guess the six apostles (wines that he regarded as the best ever) and kami no

shizuku

(the final "drops of god").
The only clues are notes he has written about each wine, how he felt and the images he had while drinking them.

Its

a little over the top at

times but

gotta

cut them some slack for trying.
This series is also very good for people who are just starting to drink fine wines.

Its

also highly educational. At the end of each episode, they will have notes on the wine featured and explains what terminologies meant. To be fair, they looked at French wines primarily with a glance at Barolos.
When the

manga

fever

hotted

up, the wines featured shot up in value, and again when the series went to air on TV.

Its

hugely entertaining.
Some of the wines featured are posted here as well. Its a worthy series about wine, it tries to examine wine as depicted in the eyes of sommeliers and critics, and how the common man can also enjoy them without snobbery. It highlights the fact that wine is a lot nicer with

company

, and you can be as

knowledgable

with the subject matter or not, in the end its for you to enjoy.
In the manga series it was the twelve apostles plus one, but they shortened it to six plus one for TV. Keep a lookout for the girl who plays Miyabi Shinohara the sommelier in training, she is so fun to watch. Her name is Naka Riisa. Oh...

and

note the product placement for Riedel glasses

...

obviously they went through a lot of glasses in the series, smart to get a sponsor and Riedel was smart enough to associate themselves with such a classy project.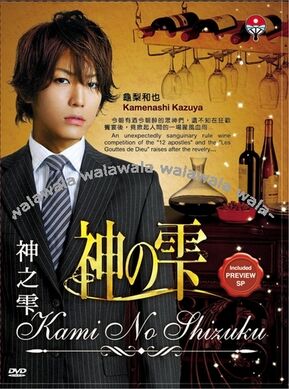 http://www.dailymotion.com/video/xqax5l_kami-no-shizuku-01_fun