The US is seeming going through a do or die vote in the Senate. Do we need to care? I guess we do esp if there was no resolution passed by August 2.
Latest Update:
In a last-minute stab at compromise, Republican congressional leaders and the
White House
made significant progress Saturday night toward a deal to avert a government default threatened for early next week, according to officials familiar with the talks.
Under the plan, the nation's debt limit would rise in two steps by a total of about $2.4 trillion and spending would be cut by a slightly larger amount, these officials said. The first stage _ about $1 trillion _ would take place immediately and the second later in the year.
Congress would be required to vote on a balanced budget amendment to the Constitution, but none of the debt limit increase would be contingent on its approval.
One Republican official said the two sides had settled on general concepts, but added there were numerous details to be worked out, and no assurance of a final agreement. A Democratic official said the two sides were "not really" close to a deal, but added that one could come together quickly. They spoke only on condition of anonymity about the private negotiations.
Word of significant progress after weeks of stalemate offered the strongest indication yet that an economy-crippling default might be averted. Without legislation in place by next Tuesday, administration officials say the Treasury will run out of funds to pay all the nation's bills. They say a subsequent default could prove catastrophic for the U.S. economy and send shockwaves around the world.
President Barack Obama is seeking legislation to raise the government's $14.3 trillion debt limit by about $2.4 trillion, enough to tide the Treasury over until after the 2012 elections. Over many weeks, he has agreed to Republican demands that deficits be cut _ without a requirement for tax increases _ in exchange for additional U.S. borrowing authority.
But President Barack Obama has threatened to veto any legislation that would require a second vote in Congress for any additional borrowing authority to take effect, saying that would invite a recurrence of the current crisis in the heat of next year's election campaigns.
First word of an effort to reach a compromise came at mid-afternoon from Senate Republican Leader Mitch McConnell and House Speaker John Boehner _ Obama's principal Republican antagonist in a contentious new era of divided government. Both GOP leaders said they were in touch with the White House and hopeful of a deal.
Senate Majority Leader Harry Reid heatedly denied their claims of progress on the Senate floor a short while later, but several hours later said events had changed.
"There are many elements to be finalized...there is still a distance to go," he said in dramatic late-night remarks. "I'm glad to see this move toward cooperation and compromise," he added.
He said he was optimistic any agreement would not include a short-term extension of the nation's debt limit _ a point on which Obama has insisted.
Officials familiar with the discussions said that while the first-step increase in borrowing authority and cuts in spending would happen at once, the next step would be somewhat more complicated.
The additional increase in borrowing authority, about $1.4 trillion, would be linked to creation of a special committee of lawmakers charged with recommending deficit cuts of a slightly larger size. If the panel failed to act, or its proposals were rejected in Congress, automatic spending cuts would take effect to slice spending by slightly more than $1.4 trillion, possibly affecting Medicare and the Pentagon.
The terms under discussion appeared to satisfy key demands made by both sides. Obama would prevail on insisting that after the legislation is passed, Congress would not be required to vote for debt limit increases to take place. Republicans would win spending cuts slightly larger than any debt limit increase and avoid any higher taxes.
Reid said that at the request of White House officials, he was postponing a test vote set for shortly after midnight on his own legislation to raise the debt limit while cutting spending. Republicans opposed his bill, and said in advance they had the votes to block its advance.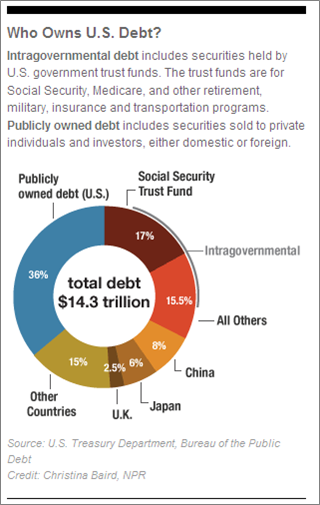 WHAT IFs
If there is no resolution by the said date, we could see some selling in commodities, and a flight to gold and silver. Is it going to catastrophic? Not really, in my view. Tell me something that the rest of the world does not know.
If there was a credible alternative to the USD as the reserve currency, then we may see a sharp sell down in USD and a move towards something else, but the next alternative is the very dubious and weak Euro. The thing is, if there was panic, most will move back to US Treasuries, so we are back to square one.
There is a 90% chance that there will be a resolution, even though the statements coming out from the Senate, the House and Obama indicate otherwise. You cannot have any of them issuing a positive statement because its all part of the negotiation tactic. To be positive means you will be hammered to give away more. To be guarded and anxious might force other sides to push this through. Obama has been unusually determined NOT to allow the deal through unless its a proper one-off resolution. The very strong stance taken by him is important to make sure the spending cuts will come from tax increases largely, which is part of his mainstay policy. Rightly or wrongly, he has taken this opportunity to push through his desired policy changes, even at the possibility of "temporary default".
This, who blinks first game, is a scary one. It takes guts and conviction.
So now, the ratings agencies are playing the role as the agitator? When did they suddenly become so high and mighty? Did they forget that they were the ones who brough the global economy to where its at now? Realistically, some smaller ratings agencies have already downgraded US debt to AA. Inside our minds, the US debt is already AA if not single A. What the ratings agencies are twitching about is not a big deal.
Will markets be affected? If there is no resolution, markets will correct a bit, there is nothing new but a sympathy correction is in store. If there is a resolution, there will be a relief rally. The reality is, the Euro crisis seems to be a long drawn out thing and will hobble EU for a long time. Spain seems to be the next Greece along with Portugal. If you did all those things for Greece, you have to do the same for Spain and Portugal as well. That will put the entire Europe in strait jackets for a long time.
Having a resolution in the US will mean the US will have to live on a budget finally. Attention will fall onto the majority of the states in the US which are in more precarious situation than the federal government deficit. The belt tightening will get worse in the US, recovery will be muted at best. One can almost forget about the domestic economy's robustness to get them out of the already prevailing slowdown.
Are things really bad for everyone else? No. What we shall see in the coming weeks is a reweighting to emerging markets currencies and assets. The swiftest way for Europe and US to get themselves out of the funk is to effectively "devalue" their currencies bit by bit.
The thing which is saving the markets is the fact that the many quantitative easings will still be around swishing in the global system. The other fact is that corporate side is still making money, generally. Corporations in the US and Europe can count their lucky stars that a substantial portion of their earnings now come from emerging markets.
No one would want to wish for the US to go through what they are now going through, but thankfully they are. They cannot be allowed to print money as they wish, consume more than they produce at the expense of everyone else.
China and Japan only hold a small percentage of US Treasuries, no one in the emerging markets will be held ransom to their predicament. The resolution will mean a proper way to adjust their borrowings and spending - and that is what everybody wants. Its meant to happen, it has to happen, just be thankful we have Obama to push this through because a Republican led government will dilly dally even more on this.