I am no manga fan but I consider Takashi Murakami a great artist in his own right. There is something "not quite right" to have Murakami's creations in a place like Chateau de Versailles. I mean, look at some of the pictures, the magnificent old paintings, sculptures and architecture looked so out of place, in fact they looked rather embarrassed to be in the same room as Miss Ko. LOL ...
Naturally some critics were up in arms over this exhibition, but hey art is art. Its compelling, even disruptive, but move over kiddo ... Great job by the curator to bring Murakami there!
If you look at the old masters, sculptures ... they seemed to be saying "get me outta here, this is so discomforting".
Murakami's creations are fun, they make you feel "young", they are vibrant and in your face. Great stuff!!!
Tongari-kun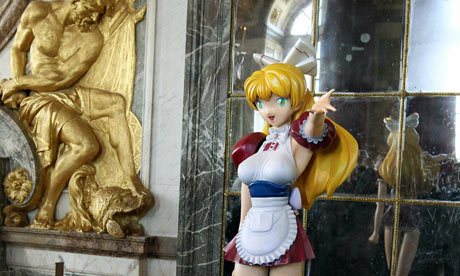 Miss Ko
Murakami has written:
"For a Japanese like me, the Château de Versailles is one of the greatest symbols of Western history. It is the emblem of an ambition for elegance, sophistication and art that most of us can only dream of.
Of course, we are aware that the spark that set fire to the powder of the Revolution came directly from the centre of the building.

But, in many respects, everything is transmitted to us as a fantastic tale coming from a very distant kingdom. Just as French people can find it hard to recreate in their minds an accurate image of the Samurai period, the history of this palace has become diminished for us in reality.
So it is probable that the Versailles of my imagination corresponds to an exaggeration and a transformation in my mind so that it has become a kind of completely separate and unreal world. That is what I have tried to depict in this exhibition.

I am the Cheshire cat that welcomes Alice in Wonderland with its diabolic smile, and chatters away as she wanders around the Château.

With a broad smile I invite you all to discover the wonderland of Versailles."
Imagine the juxtapositions! The exhibition will run from September 14th through December 12th, 2010.
Takashi Murakami is one of the most thoughtful and thought-provoking Japanese artists of the 1990s. His works include cartoon-style paintings, almost minimalist sculptures, giant inflatable balloons, events, watches, t-shirts and other products manufactured in series, many of which bear his figure-signature, Mr. DOB.
Takashi Murakami was born in Tokyo in 1963 and holds a BFA, MFA and Ph D from the National University of Fine Arts and Music of Tokyo. He has performed one-man shows in the Marianne Boesky Gallery in New York (2003), the Fondation Cartier pour l'art contemporain in Paris (2002), the Museum of Contemporary Art in Tokyo (2001), the Museum of Fine Arts in Boston (2001) and the Emmanuel Perrotin gallery in Paris (2001).
Alongside his artistic work, Takashi Murakami is a curator, an entrepreneur and a student of contemporary Japanese sociology. In 2000, Murakami was the curator of an exhibition of Japanese art called "Superflat" and representing a movement interested in mass entertainments and their consequences on contemporary aesthetics. Murakami is also known worldwide for his collaboration with the designer Marc Jacobs in the design of handbags and other products for the Louis Vuitton fashion house.
The work of Takashi Murakami has been exhibited in prestigious museums all over the world, including the Metropolitan Museum of Art in Tokyo, the Museum of Fine Arts in Boston and a recent one-man retrospective at Bard College Museum of Art.
Through his work Murakami plays on oppositions between East and West, the past and the present, high art and low culture, while remaining always amusing and accessible. His work depicts the worlds of popular contemporary Japanese cartoons and historic Japanese painting (he received a classic training in art and possesses a PhD in the traditional nihon-ga style). His recurring figure, Mr. DOB, appears on T-shirts, posters, key rings, etc. around the world and has even appeared as a 3-D sculpture. Murakami was also the curator of "Super Flat", an exhibition grouping contemporary Japanese artists.